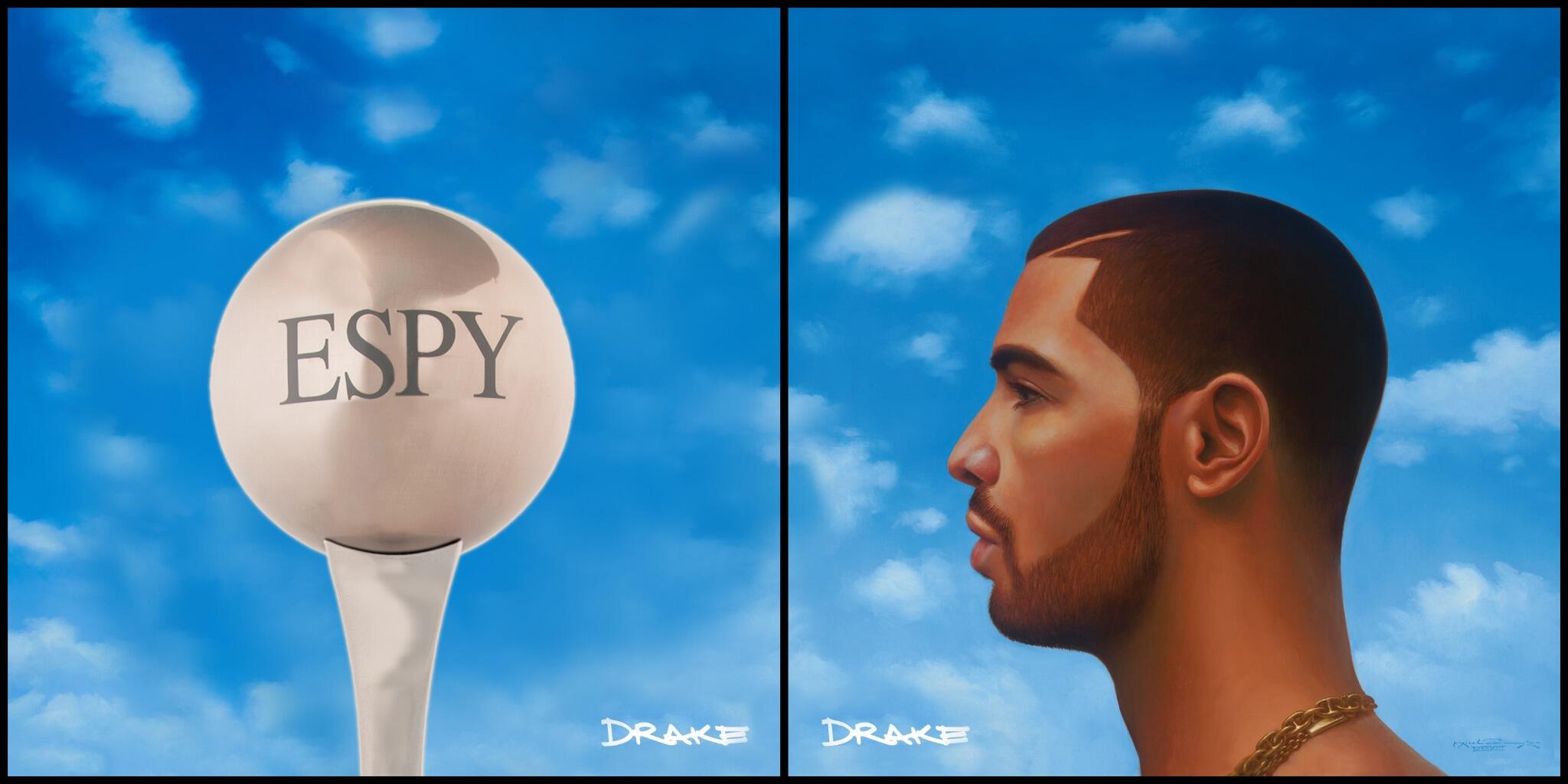 Yesterday afternoon, Drake announced on Twitter that he would  be hosting this year's ESPYS. And while some weren't surprised by decision given Drake's recent super-fandom unwavering support for the University of Kentucky at Monday night's NCAA Championship game in Dallas, I think it was simply the (strategic) icing on the cake.
We all know that Drake is Canadian through and through, but since becoming an international rap superstar, he has shown his love and appreciation for all American sports. From sitting on the sidelines at L.A. Lakers games, to countless sports references in his music, to partying with members of the Miami Heat, Drake has been able to seamlessly leverage his brand and influence as a hip-hop artist in the world of sports.
To refresh your memory, let's take a look at a few examples that prove Drake is just the right person to host this year's awards show:
1. He's hardly home, but always reppin'. In September 2013, he became the Toronto Raptors official global ambassador. While his role is still yet undefined, Drake remains excited to show support for his home team. To get the ball rolling, Drake teamed up with the Toronto Raptors to host 'Raptors Drake Night 2014'. Not only was the rap superstar present for the game, but he also had a hand in re-branding the franchise with his personal OVO (October's Very Own) brand for the special occasion.
2. "All star peaking, All-Star Weekend…" We all know Drake has always had a love for All-Star Weekend (see: Houstonlantavegas) and this year proved no different. Many celebrities attend the festivities year after year, but not many have the privilege of stepping on the court during the Sprite Dunk-Off to assist Terrance Ross in his dunk. (Drake also has an endorsement with Sprite, so again, kudos to his PR team for making the connection.)
3. "I'm on my King James —-, I'm tryin' to win here again." After flexing his acting chops on Saturday Night Live in January, I've got no doubt in my mind that Drake will totally knock this hosting gig out of the park. If you haven't seen his episode, hop on over to Hulu.com and check it out, it's HILARIOUS. As a singer/actor, he brings a unique set of skills to the role and he's got his predecessors Jamie Foxx and Justin Timberlake to thank for that. (They both hosted the ESPYs in 2004 and 2008 respectively.)
In all honesty, Drake hosting the ESPYS is just proof that dreams really do come true. (So cliche, I know.) But it also proves that he continues to win regardless of what people have to say, and I admire that most about him. From a personal branding standpoint, Drake is building relationships and acquiring opportunities that will continue to bring longevity to his brand — which should ultimately be a lesson to us all.
Are you excited to see Drake host the ESPYS? Be sure to tune into the show on July 16th on ESPN.
Because he'll never follow our suggestions,
Chasity